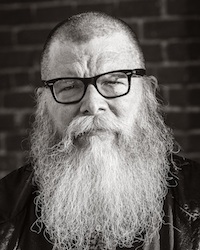 "Fisher has a voice that has all the gravity of a Cash, a Cohen or a Cale" - Uncut
"The sound is epic, florid, grandiose; the mood dark; the achievement great" - Time Out
"WGC are reminiscent of The Band in all their gothic pomp"
-Mojo
Southern California native and long time New England resident, Robert Fisher has been writing songs and leading bands since the early 80's. Volume Control and Laughing Academy were part of a strong post punk music scene in Boston. In the mid 90's, Robert and his writing partner in Laughing Academy, Paul Austin, formed a band with other members from established bands in Boston with the idea of collaborating on music during a weekly living room session, without a defined membership. This approach became the roots of Willard Grant Conspiracy.
Willard Grant Conspiracy includes a world wide membership of about 30 musicians, collaborations with Manny Verzosa, Edith Frost, The Walkabouts Carla Torgeson and Chris Eckman, Kristin Hersh, Jackie Leven, Malcolm Lindsay and Steve Wynn of the Dream Syndicate which have led to rich and varied influences in the band.
Robert has toured with WGC and as a solo performer over the last 20 years in 25 countries, added a performance and song to the film documentary on Slovenian poet and performer Fran Milcnski Jezek called "My World is Upside Down" directed by the award winning documentary film director Petra Pan, and has enjoyed the company of his band members, audience and collaborators in many different adventures around the world.